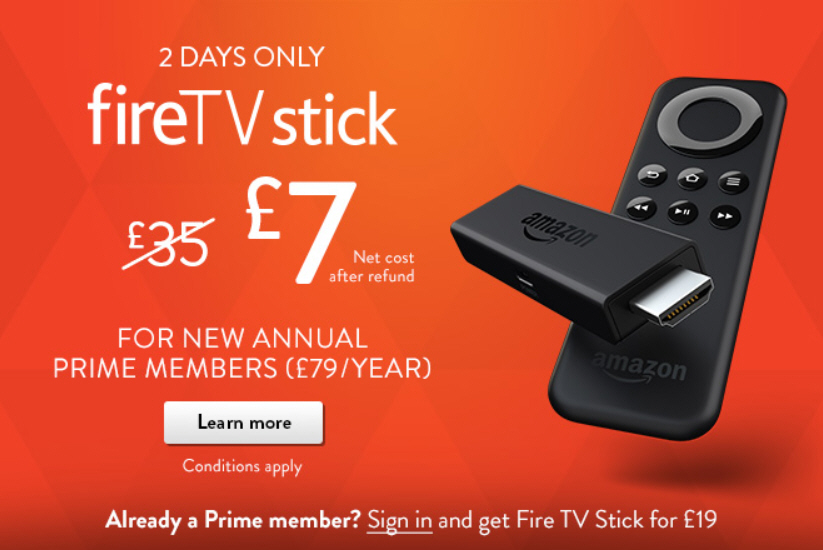 Amazon launched its Fire TV Stick in the US last October, leaving those of us in the UK feeling a little jealous of our stateside cousins. However, we don't have to wait too much longer to get our hands on the retail giant's streaming device as Amazon announces it will soon be available on British shores.
Powerful performance -- 4x the storage and 2x the memory of Chromecast, plus a dual-core processor for fast streaming and smooth performance.
Massive selection -- Watch what you want, when you want. Tens of thousands of TV episodes and movies, plus millions of songs and hundreds of games.
Effortless to set up and use -- Simply plug in and start streaming in minutes. Take it from room to room and turn your HDTVs into streaming media centers.
Free 30-day Prime trial -- Unlimited access to thousands of popular movies and TV episodes including Vikings, Ripper Street and original shows like Transparent.
No buffering with ASAP -- ASAP learns what Amazon movies and TV episodes you'll want to watch and buffers them for playback before you hit play.
Dedicated remote and free mobile app for easy use -- With the Amazon Fire TV Remote (included) or the free app for your Android and iOS phones and tablets, you have all the controls you need to easily search, navigate and play games.
Connect your small screen to your big screen -- Fire TV Stick lets you fling your favorite apps to your TV to free up your small screen for other uses. Or mirror your phone or tablet to your TV.
Great for gaming, too -- Play favorite titles like Flappy Birds Family, Toy Story: Smash It!,Monsters University, and more great games.
Voice search that actually works -- Simply say what you want to watch and start enjoying in seconds with the free app or Amazon Fire TV Voice Remote (sold separately).
The Fire TV Stick is available to preorder today and will begin shipping on April 15. And there's great news if you're an Amazon Prime member, or have been toying with the idea of becoming one.
The Fire TV Stick is priced at £35, but Prime members can get it for just £19. And better still, if you're not currently a Prime subscriber, taking the plunge will allow you to preorder the stick for just £7 (after refund). That's a huge deal, but you'll have to act quickly as the offer is only on until 26 March.
Of course, offers aside, the UK prices are -- as ever -- higher than in the US. The Fire TV Stick there launched at $39 (£26) and Prime users could pick it up for just $19 (£12.72).
Amazon touts the following features:
I'm not actually a Prime subscriber, but I have been thinking about it for a while, and this is the deal that's going to push me into finally becoming one.