The easiest Android Backup app that secures your contacts, call logs messages, music, videos, family photos, and other personal (irreplaceable) data to secure, cloud-based servers for Free. So you don't have to ever worry about theft and/or accidental damage (e.g. dropping your phone). 2 simple steps to setup your backup and you are done. G Cloud will automatically backup your data without any intervention.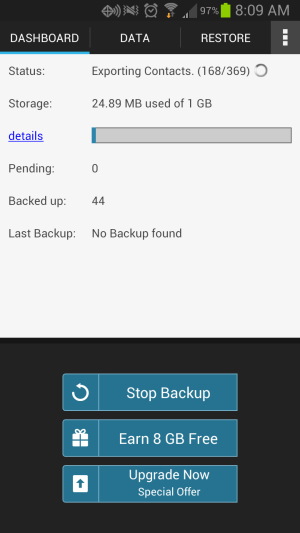 Be one of the 3M+ users who trust G Cloud to protect their Android with ease
Recommended by Android central
"The app itself is so incredibly simple to use, with a very simple user interface. But, you'd be foolish to let that temper opinions. G Cloud Backup has a pretty extensive feature
list."
Recommended by
CNet
"You won't find many other backup solutions as complete and adroit as G Cloud Backup."
Please note that this app requires the privileges to backup and restore your SMS, call logs, system settings, calendar and to locate your lost device, we do not erase your data off your phone, send messages or locate your device without your consent. Disabling these options will also disable the use of its privilege, please review our data privacy for more info.

FEATURES:
Locate your lost android on a map and so much more!
Backup Messages (SMS), contacts, call logs, documents, settings, photos, videos and music
Start with 1 GB free and earn up to 10 GB easily
Protect the App with a passcode
Upgrade to unlimited storage for only $1.99/mo.
Protect more than one device
Secure data transfer (Secure Socket Layer) and storing (256-AES)
Backs up to the secure and reliable Amazon AWS cloud storage
Backs up every version of all files
Restore/Migrate to a new device with a
tap
Backs up every version of all files
Advanced options to change daily schedule,
disable automatic schedule, backup over 3G,